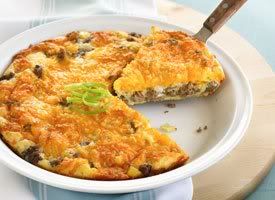 This is the 1st Edition Recipe Of The Day! I hope everyone decides to try out this delicious recipe that is one of mine and my husband's absolute favorites.
Impossibly Easy Cheeseburger Pie
Prep Time: 15 Minutes
Total Time: 40 Minutes
Servings: 6
Ingredients
1 Pound Lean (At Least 80%) Ground Beef
1 Large Onion, Chopped (1 Cup)
1/2 Teaspoon Salt
1 Cup Shredded Cheddar Cheese (4 Ounces)
1/2 Cup Original Bisquick Mix
1 Cup Milk
1. Heat oven to 400
°F. Spray 9-inch glass pie plate with cooking spray.
2. In 10-inch skillet, cook beef and onion over medium heat 8 to 10 minutes, stirring occasionally, until beef is brown; drain. Stir in salt. Spread in pie plate. Sprinkle with cheese.
3. In small bowl, stir remaining ingredients with fork or wire whisk until blended. Pour into pie plate.
4. Bake about 25 minutes or until knife inserted in center comes out clean.
Credit: Betty Crocker