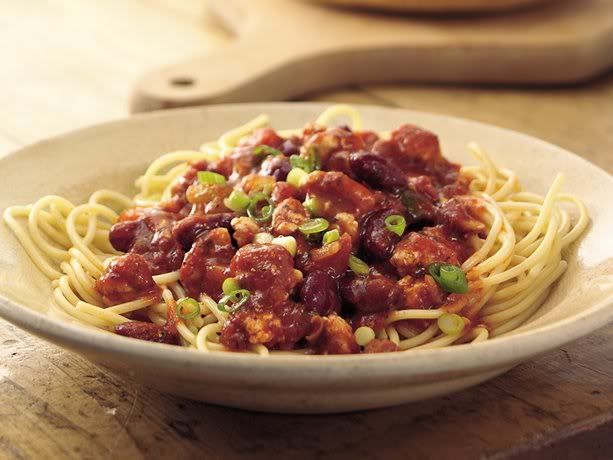 Cincinnati Chili
Prep Time: 30 Minutes
Total Time: 30 Minutes
Makes: 5 Servings
INGREDIENTS
:
10 Ounces Uncooked Spaghetti
1 Tablespoon Vegetable Oil
1 Pound Ground Turkey Breast
1 Medium Onion, Chopped (1/2 Cup)
1 Clove Garlic, Finely Chopped
1 Jar (26-28 Ounces) Chunky Vegetable-Style Tomato Pasta Sauce
1 Can (15-16 Ounces) Kidney Beans, Rinsed and Drained
2 Tablespoons Chili Powder
DIRECTIONS
:
Cook and drain spaghetti as directed on package.
While spaghetti is cooking, heat oil in 10-inch skillet over medium heat. Cook turkey, onion, and garlic in oil 5 to 6 minutes, stirring occasionally, until turkey is no longer pink.
Stir pasta sauce, beans, and chili powder into turkey mixture; reduce heat to low. Simmer uncovered 10 minutes, stirring occasionally. Serve sauce over spaghetti.
Credit: Betty Crocker.com